Fun, functional, and stylish: these 15 products are guaranteed to make your summer a little more bearable.
Jardine Expandable Dining Set
Take your backyard parties to the next level with this versatile, weather-resistant dining set! Made from sustainably sourced wood, this picnic-perfect table has a "rugged, driftwood-inspired finish that feels cured by sun and salty air." The set comes with an expandable table and six chairs, which makes it great for outdoor entertaining!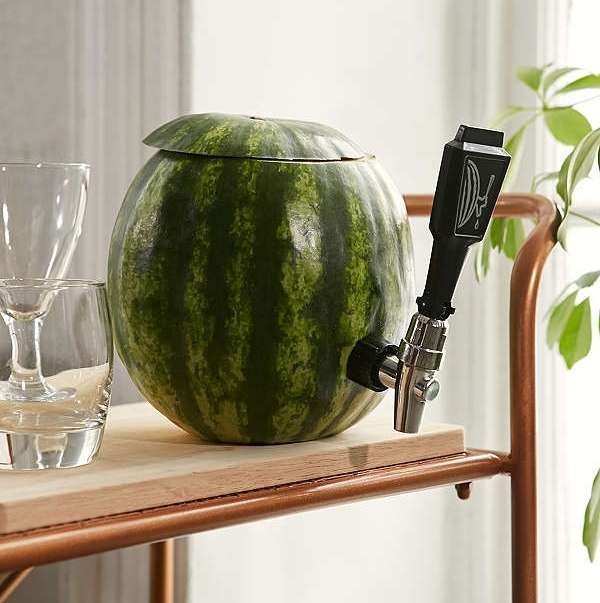 Watermelon Keg Tapping Kit
When you are having an identity crisis about the fact that your keg tapping days are over and you're more excited about Pinterest-worthy party details, this fun little accessory will help bridge the gap. Plus, when you're trying to beat the heat, you may as well have a fruity drink in hand.
A colorful set of outdoor pillows are an inexpensive way to refresh your exterior decor. We love the Golden Girls vibe of this bright palm pattern. Pair it with the structured geometric cushion for maximum effect—the modern graphic pattern will bring it right back to 2017.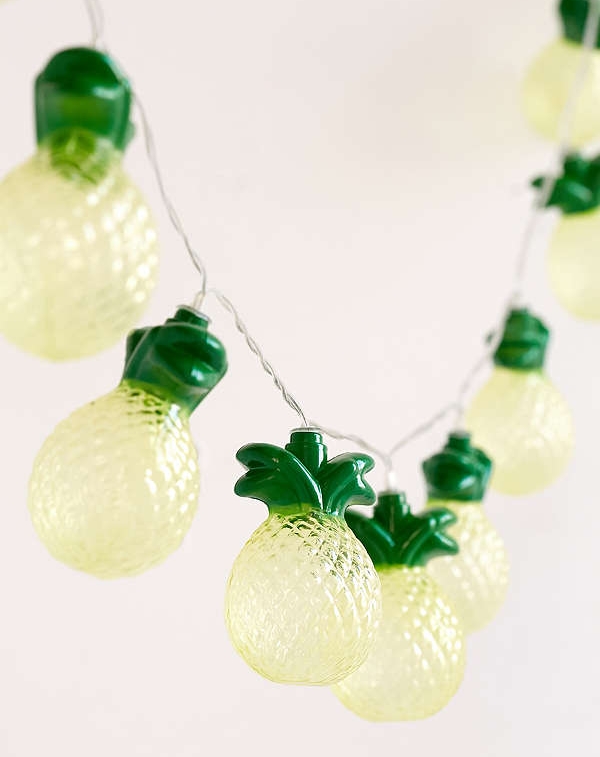 Summer design is all about being playful. What's more playful than pineapple lights?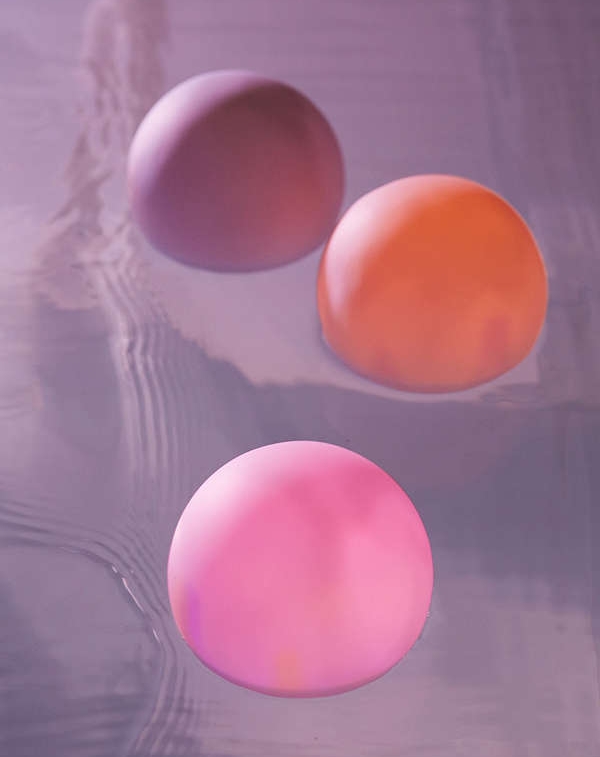 So maybe your clubbing days are over; that doesn't mean you can't enjoy these colorful waterproof LED party lights for your next pool party. The magical illuminating orbs only light up when floating in water!
Sight + sound. Simple, earthy ceramic matte chimes suspended from a single jute cord. Understated style and ambiance for your terraces, balconies, patios, and gardens.
You'll be in your own personal paradise lounging in this woven, island-inspired hammock from Anthropologie. We love the way it drips with netted fringe. "Finished with braided loops for hanging, it's the perfect addition to your porch or sunroom,"—and a wonderful excuse to take a load off.
Sunday Supply Co. Beach Umbrella
Australia knows how to beach—these vintage-inspired beach umbrellas from Sunday Supply Co. are made for shade... "The result of a lifetime spent chasing sunny days — an exclusive selection of boutique beach essentials designed for an endless summer. Conceived by the sea, residing in the sun, these unique pieces are designed to accompany every trip to the beach and create beautiful shade. Bold patterns inspired by the world around us make each piece something special for your place in the sun." Bonus: all their umbrellas come with a matching carry bag.
All-Weather Woven Lounge Chair
This is perfect to accent a bland beige outdoor lounge! Pair it with a simple chunky stool-style side table and the frozen cocktail of your choice. You'll have an outdoor oasis in no time.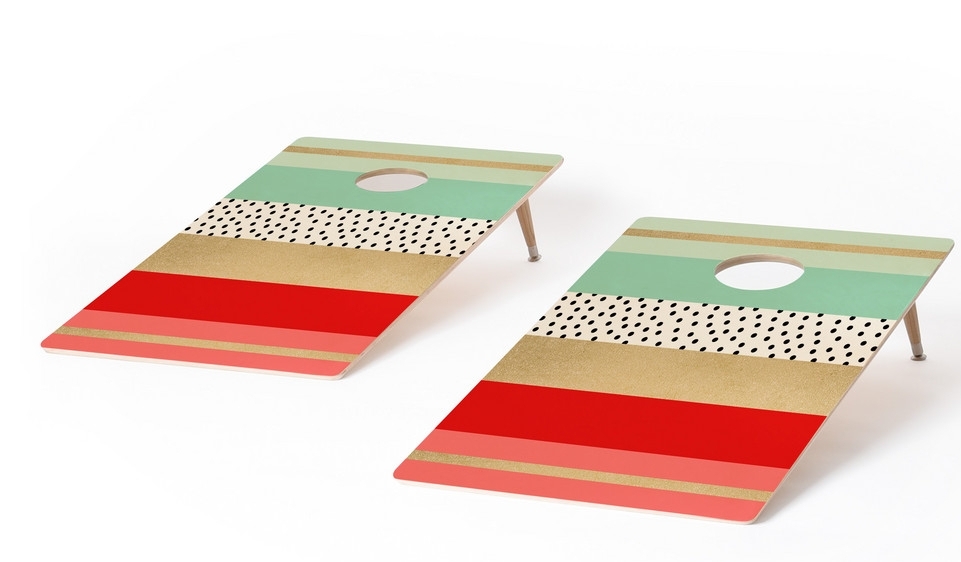 Summer Fresh Cornhole Set
Who knew lawn game accessories could be so stylish? This cornhole set by Deny Designs has a sleek baltic birch printed top and and tapered wood legs. Feeling inspired to freshen up? DIY a set of your own!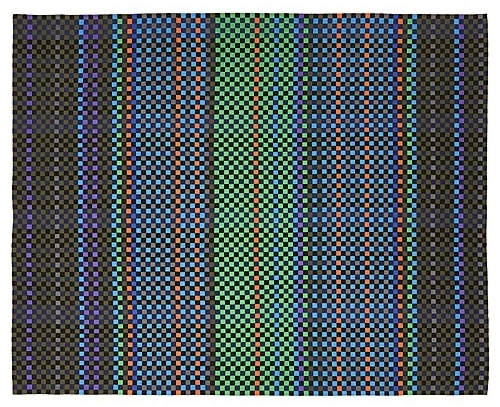 Allta Multicolor Indoor/Outdoor Rug
For high-traffic houses, durable indoor/outdoor rugs are essential—especially during the summer, when muddy feet abound. This multi-color, basket-weave floor covering adds a nice graphic layer to a space while holding up to the elements.
A stylish and functional pool or seaside essential! This plush towel comes from a line of beach and bathware by Kassatex. "Crafted from super soft cotton velour and adorned with hand-knotted tassels for a boho chic look, our Cabana Round Beach towel is all you need for your beach escapade."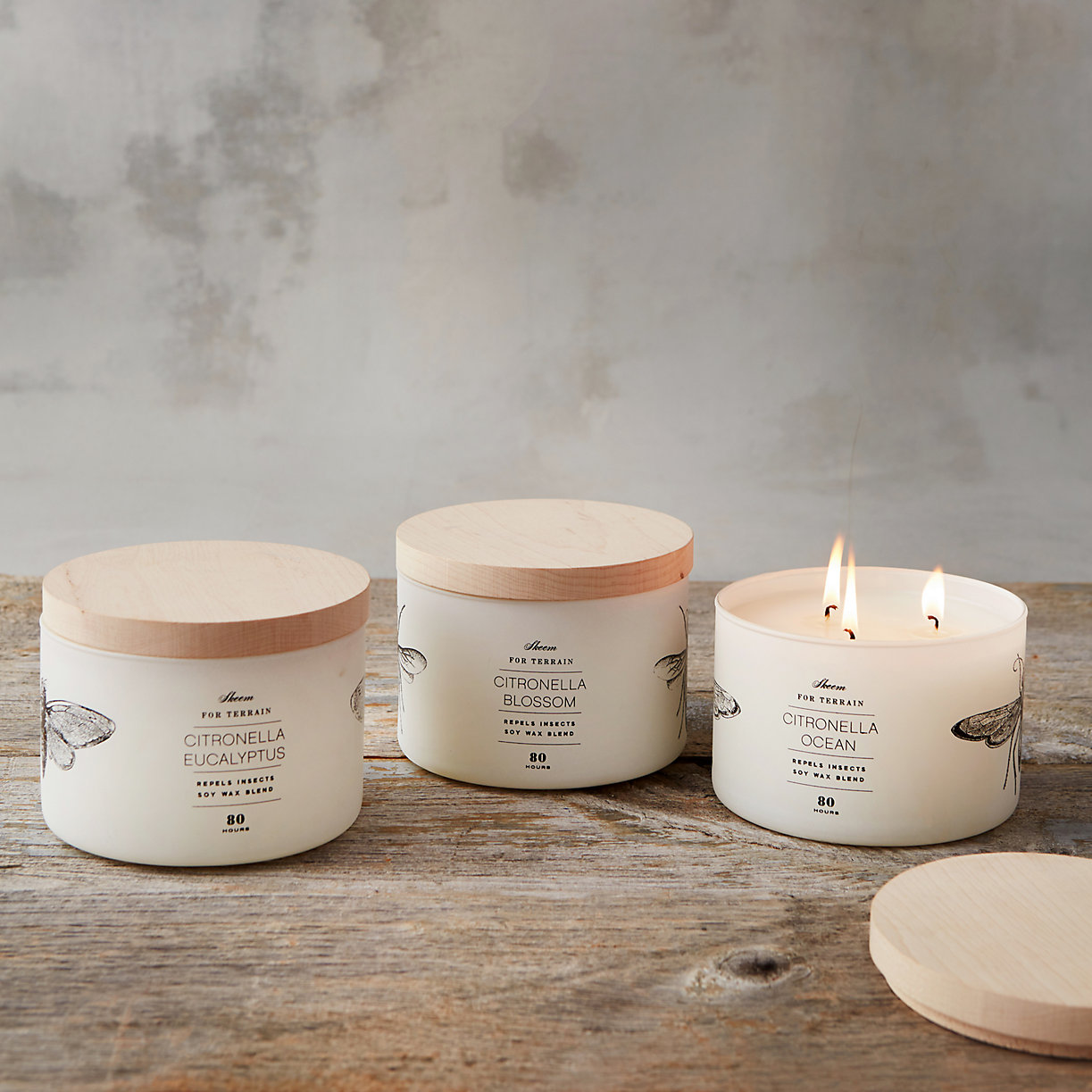 Blossom Citronella Candle
Bugs be gone! Late summer evenings are much more enjoyable when the insects buzz off. These hand-poured soy-based candles come in cute containers and soften bug-repellent citronella with notes of jasmine, hibiscus, and subtle peach.
Orange Oil Flyaway Sticks
Use these citrusy sticks in addition to the citronella candles to keep your outdoor dinner parties and afternoon barbecues extra bug-free. Non-toxic orange oil naturally keeps bugs at bay without harming local populations of bees.
Moxi Leather Roller Skates